In Chapter #2, I shared the struggle that we were having deciding between retail store growth and online customers generated by paid-ads. I also expressed why I felt like it wouldn't be wise to pursue both at this time. After hashing out the pros and cons of each, we finally determined which one we would pursue right now -- the retail route. The decision was further solidified after discovering the fact that by 2020 80% of socks sales are projected to be bought in stores while only 20% will be bought online.
The first thing we had to do was was create a merchandising display that would sell the brand. We determined that if we were going to build one, we were going to do it well. We didn't want to try something cheap see if it will work, we wanted to take a leap and go all in. And I'm glad we did so!
Here is a look at our first sample display that is set up in stores at Englin's Shoe Rack.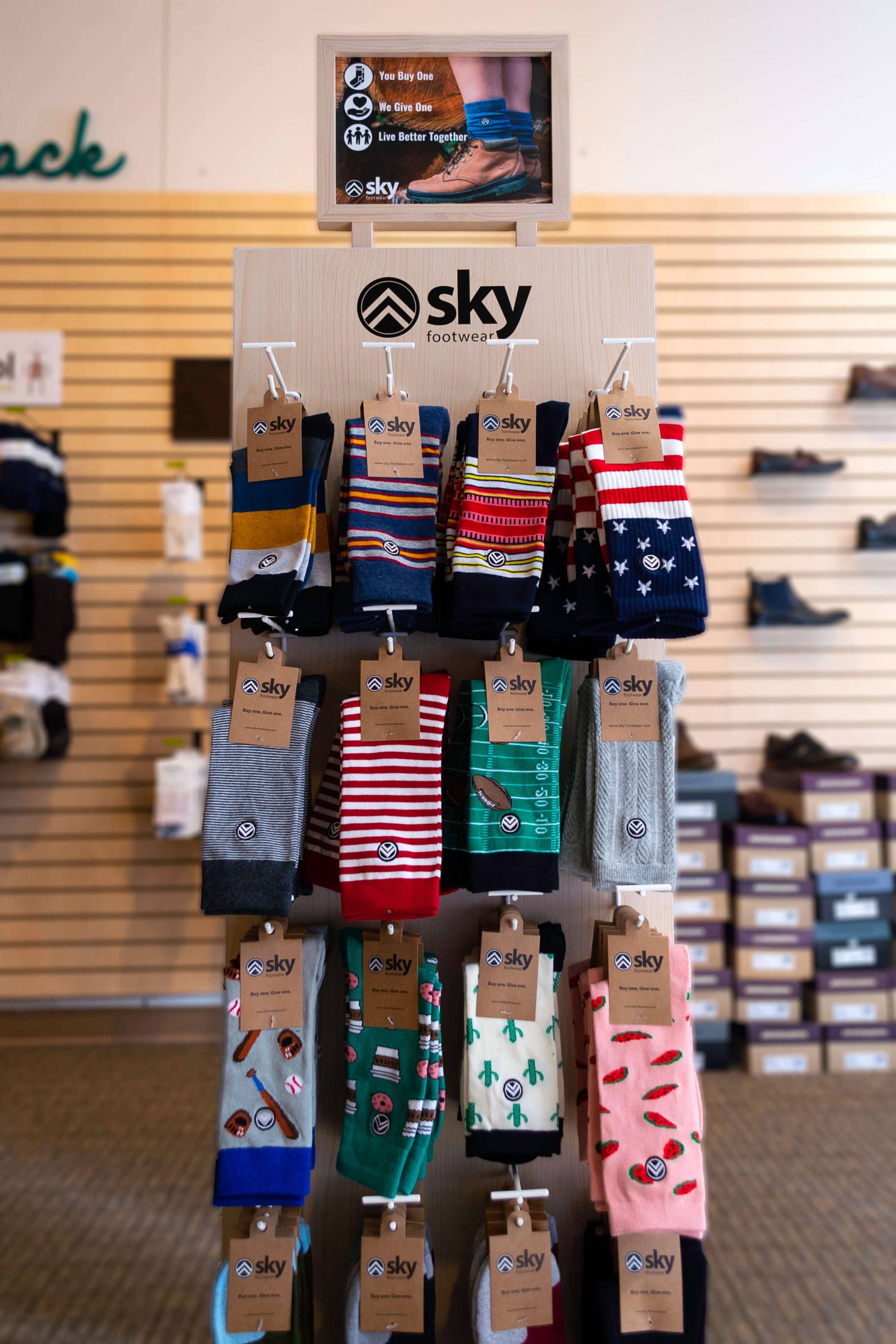 Our second step was to pick up the phone and travel to stores to inquire about selling the socks. Over the past three weeks I have traveled to several stores with a box full of socks, a purchase order form, and a mock up of our retail display. As you can imagine, there's been a lot learned...
#1 - It's Hard to Sell a Story in 1-minute
Before meeting the individual in person, I would call the store, tell them about the story and see if I could come by (we have started locally in Indy). It didn't take long to learn that most of these store owners are busy. It seems obvious, but I quickly realized that their biggest priority to them is selling what they already have, not what they could have.
That being said, it's a very challenging task to peak some sort of interest when talking on the phone with a mere 60-second window. It's quite hard to condense the story of Sky, establish credibility, and share some top facts all in that time frame. Yet it's crucial, because the buyer is usually multi-tasking the sales floor at the same time, and the call is interrupting that.
#2 - Reps vs. the Sky Guy
To be honest, it feels like a David vs. Goliath scenario that I didn't see coming. I quickly learned that there are individuals labeled as "reps" that sell to stores and have relationships with all these buyers at the stores. The reps carry many different brands and have a lot of different products. Therefore, the buyers like these people because they can purchase a bunch of different things from the same person and all established brands.
Then walks in the Sky Footwear "kid". Most of the stores have never heard of Sky before and all assume this is some brand a kid started and runs from his apartment and storage unit -- (which, as you know, is all true). But it is a huge disadvantage to overcome early on.
#3 - Quickly Establish Connections and Credibility
Connections are powerful. It's hard to explain how helpful it is when I can walk into a store or start a call by saying your friend Alex at XYZ company purchased socks yesterday and recommended I come by.
The other thing that helps overcome that initial challenge is establishing credibility. One of the first questions I often hear is, "what other stores are you selling in?". Having other stores selling the socks that they know of is huge.
#4 - Most Stores are Interested in New Products
I have been surprised to realize most stores are interested in new products. Not necessarily a new brand or company that just started, but more so something that's different and unique. When I successfully establish credibility and our story, most stores become genuinely interested.
However, this doesn't always lead to sales. "Store fit" is something that they strongly consider and look at. To our advantage, we have a broad range of styles because we haven't narrowed down our collection into a certain category and can therefore fit most every store.
#5 - Always Ask for Recommendations
The last lesson is from Sales 101, but it's so helpful. I've learned that most of the people at these stores genuinely care about helping you succeed. Although there is a part of them that doesn't want to create competition for themselves, there is also a huge part of them wanting to lend a hand and give me ideas of who to approach next.
Having recommendations and names of other stores they know are so important. Like I mentioned, having this connection and the ability to establish a connection is huge.
I hope these words provide a better picture of what's been going on lately, as well as the current challenges we are facing. We believe store expansion provides the best potential lift for our goal of donating 10,000 socks by the end of the year. We are currently at 48% with 98 days left to go. However, we are seeming to find traction at the right time which has been a tremendous blessing!
I'm truly thankful for those of you who have been following along as well as the 862 supporters that we have had to help get us to this point. I often hear about "the winding road to success" and I can firmly state that we are certainly traveling :)