We've recently made a push to expand into retail stores. We spent significant time creating branded displays that showcase our mission and brand. So far, we've seen great results with having a lot of exposure to new customers, but this avenue has come at a cost due to an early mistake. Take a look at our process and the comical changes we've realized we have to make in order to be successful in the future.
While it's true that we store all of our socks in a storage unit, the actual fulfillment is done out of a basement apartment (am I allowed to say this?). So, because the majority of the socks are stored in a separate place, the first step to the fulfillment process is making a trip to the unit to load all of the socks that I need to ship in the afternoon.
Adding the Branded Packaging

There's something fun about a "learn as you go" mentality, but there are also some things that, once you do know them, you definitely wish you had known before. For the first 14,000 socks we ordered, none of them were produced with our branded packaging, they were just simply placed in a see-through plastic slip. This honestly didn't even cross my mind when I was in the process of placing our first order -- at the time I was just happy to have a sock with a logo.
If you've been around for awhile, some of you may remember receiving socks like this. Though we used to shop those socks without branded packaging on them, we realized after a little bit of time that it's so important for each of our socks to be branded - so now, if they don't have it, we hand tag every single pair with our branded packaging before shipping them away. It's not bad packaging a few at a time with a tagging gun for an online order, but doing 512 pairs at once for some of these retail stores that we're now being sold in is a little bit more time consuming than that!
The Second rookie mistake was not barcoding our socks. Up until July, this has never been an issue. No customer had ever requested a barcode, but I quickly learned that stores do… And I'm not joking - when the first store requested barcodes, my knowledge of them at the time was the same as yours. Who randomly knows about barcodes? So I had to turn to Google and figure it out… (kind of.)
First, I tried to manually create them through a Photoshop template. I individually created a file for each product -- which took about 30 minutes each and we have 35 styles. As a bootstrap business, you do anything to save a penny. Sometimes you can get away with it, but in this case, we didn't. I eventually faced the truth and ordered a thermal barcode printer. This thing spits out barcodes like Chuck E. Cheese tickets -- it's amazing.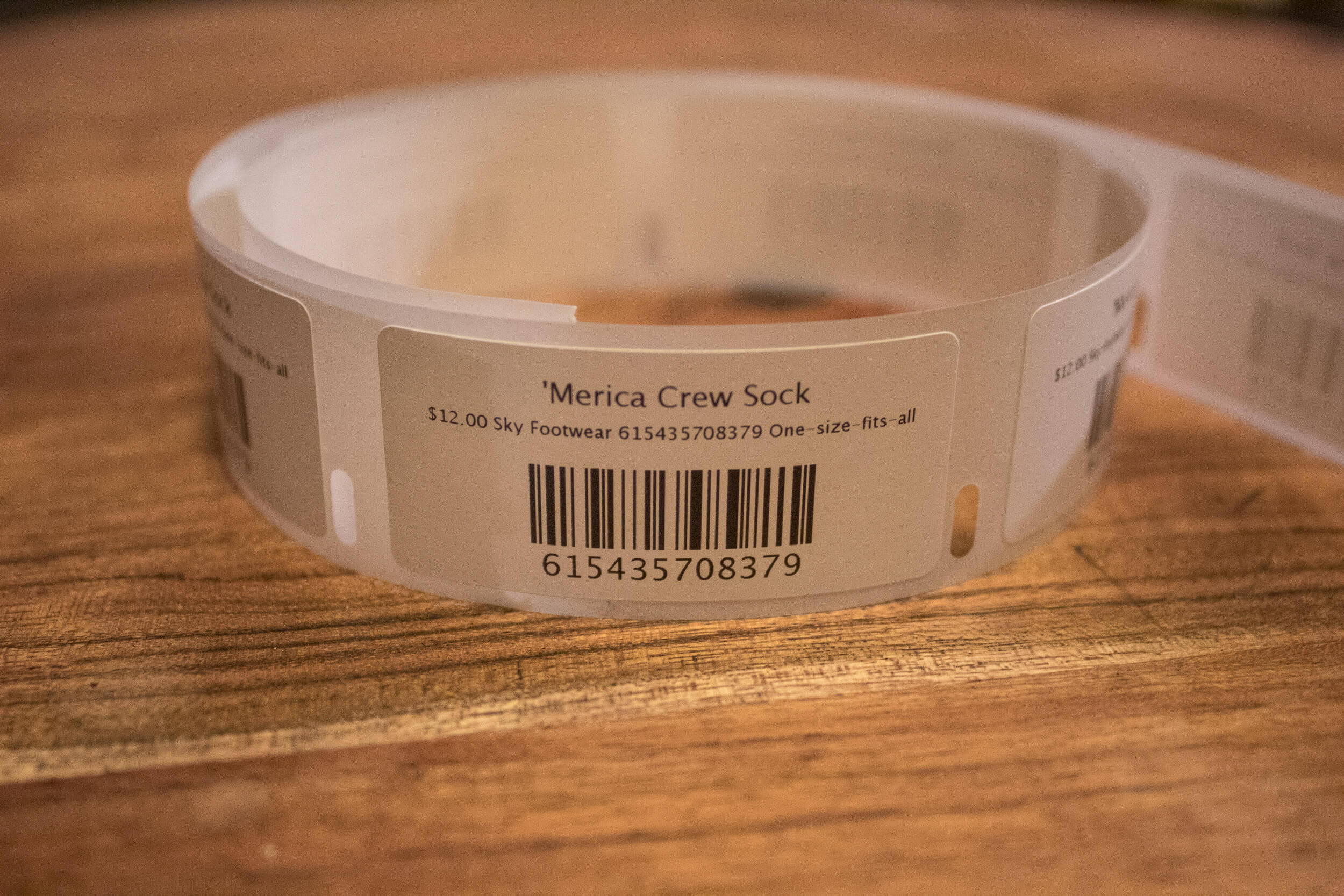 But even with the fast barcode printing, they still have to physically be put on the sock. Thankfully, all of our new orders will now come automatically with the barcode put on our branded packaging, but this doesn't take away from the fact that all our current inventory is "barcode deficient".
The final step is the delivery. Loading the socks up is easy but the display stand is different. Each stand weighs 50 pounds and comes in a box that is 6 feet tall. It's also not an easy fit for the official company car of Sky Footwear -- the Honda CRV.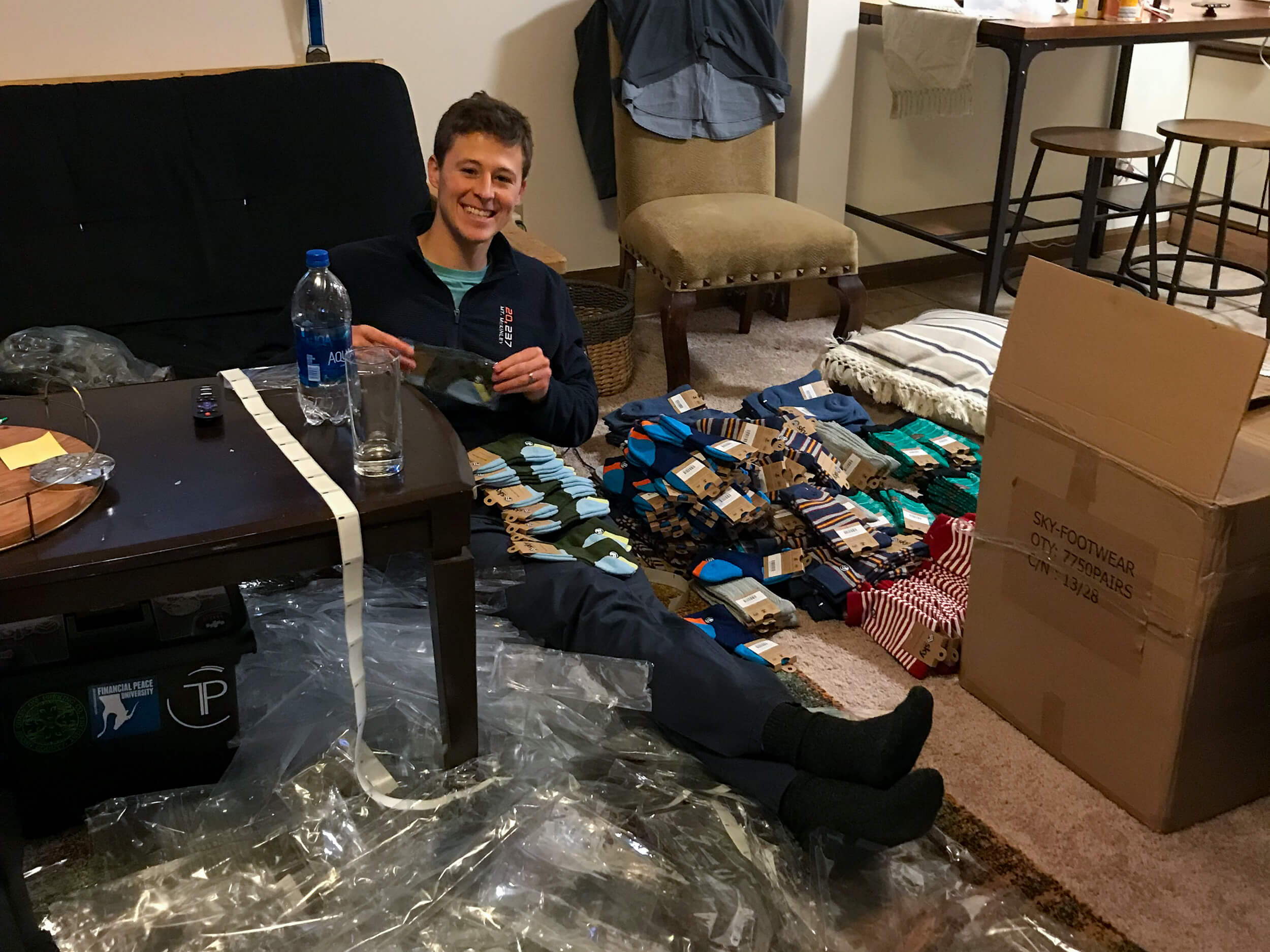 All things given, store orders are something we are continuing to pursue and feel blessed to fulfill. Future orders will continue to become become easier to fulfill as we order products that are "store ready". While it does come with some challenges, it's not all that bad to sit in front of a TV at night with a roll of barcodes and get the job done. One day it will be fun to look back on and reminisce!
- Keaton