Ever feel like you're stuck in the same routine of wearing the same old things, over and over and over again?
That happens to me a lot – especially in the summer. 95 degree weather?! Uhm, not tryin' to look cute today, thank you very much. So I find myself going to the same few outfits, the ones that are flowy and breathable and won't make me feel like I'm going to die of a heat stroke every time I step outside.
If you relate to this in any way, then: good news! Thanks to the evolution of fashion, socks are now used as a way to make a statement that add splashes of different details to an otherwise boring outfit… AND since there are so many socks to choose from, it won't feel like you're wearing the same outfit every day of the week! From cotton dresses to jean shorts, a pair of socks is the perfect accessory that will take your daily look from "eh" to "cool!"
Not sold on this idea yet? Keep reading for ideas on how to style!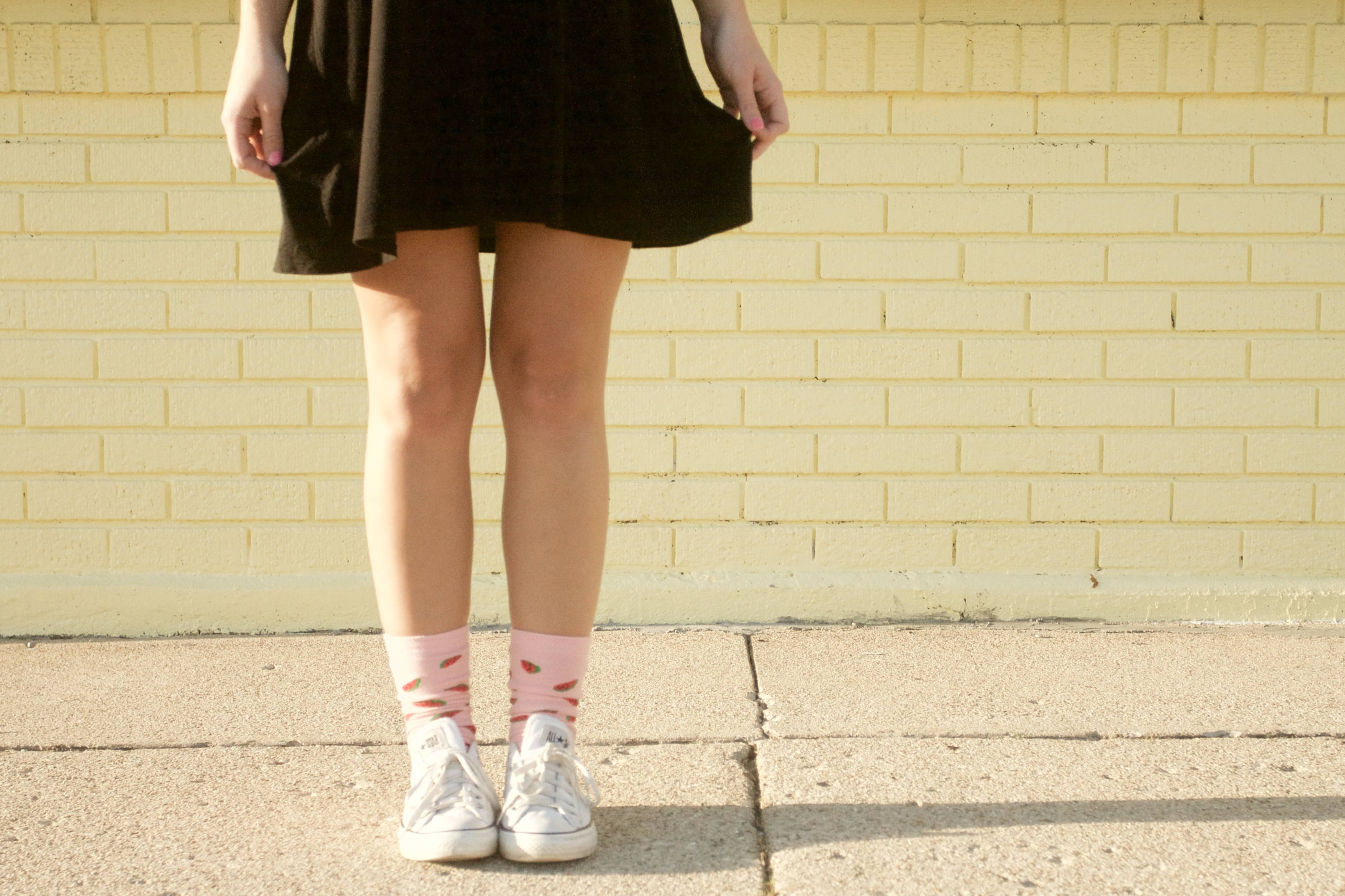 Take your simple black cotton dress to a whole new level. No matter the color of this summer staple, socks automatically make it trendier and way more fun.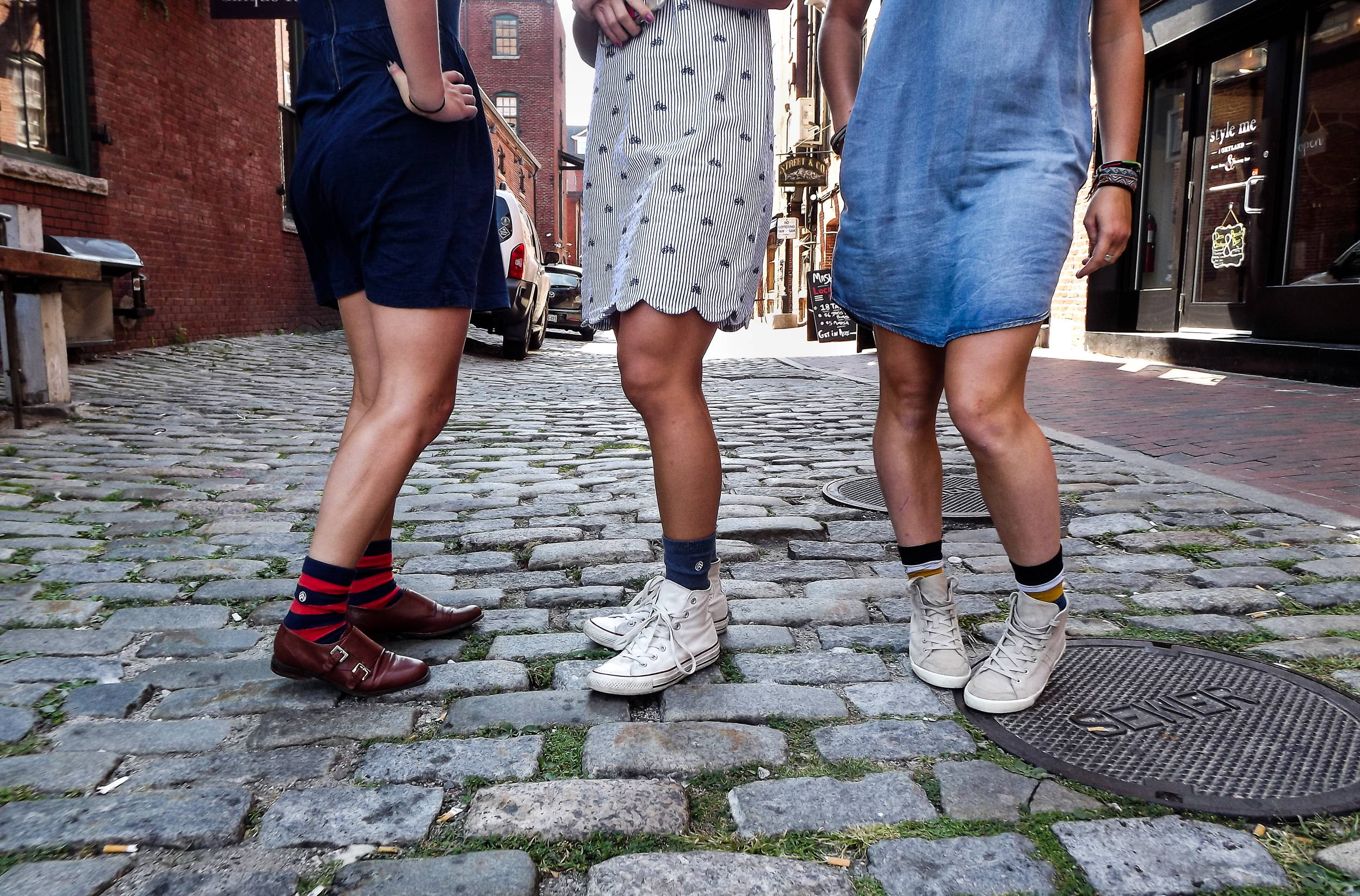 Who says a printed dress is off limits? Take this bicycle printed dress in the middle, for instance. (SO cute, right?) Paired with a pair of solid colored socks, it complements the dress perfectly and adds another dynamic layer to the outfit without having to actually add a layer!
What's more "summer" than a pair of jean shorts and a white t-shirt? Without the socks, this is just a plain outfit that anybody on the street would wear. Add the socks – and all of a sudden, you've got style! 
These shorts, while still denim, are quite different than the usual jean shorts. They're actually a soft material, almost linen, which makes them perfect for a dressier occasion. Paired with a white button up, this light and airy outfit could take you from a downtown brunch to a backyard BBQ. Again, with such a simple outfit, it would be easy to drown in the sea of everyone else wearing essentially the same thing. These socks make for the perfect pop of personality that'll catch everyone's attention.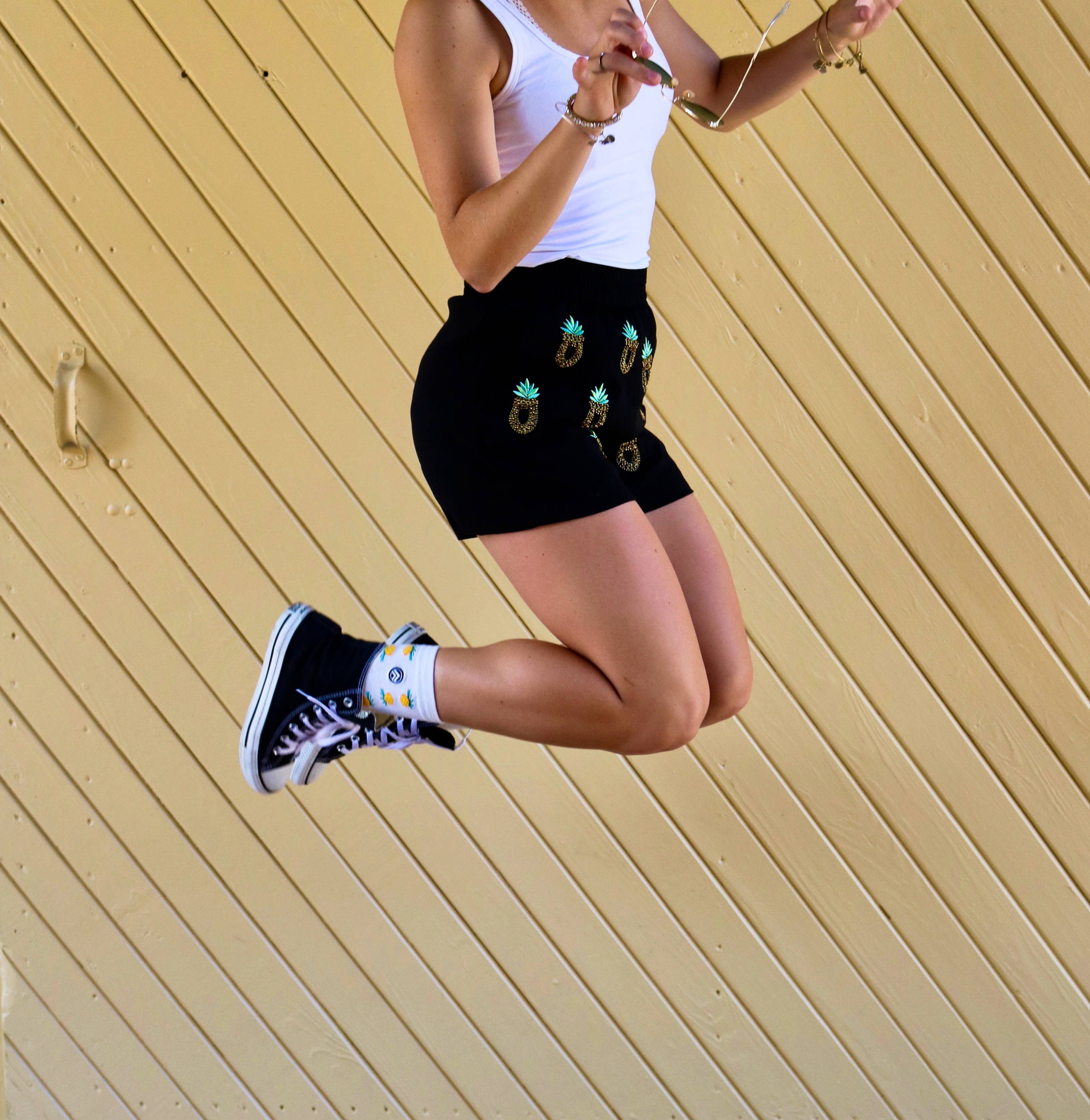 Now, for my favorite outfit! Seriously, how cute are these shorts? Paired with a white tank top, it would automatically be a cool outfit, because pineapple shorts, duh. But add the pineapple socks?! I guarantee you at least 10 compliments on this outfit. The more clever you are with your sock pairings, the more people are going to notice! 10/10 for this sweet summer outfit.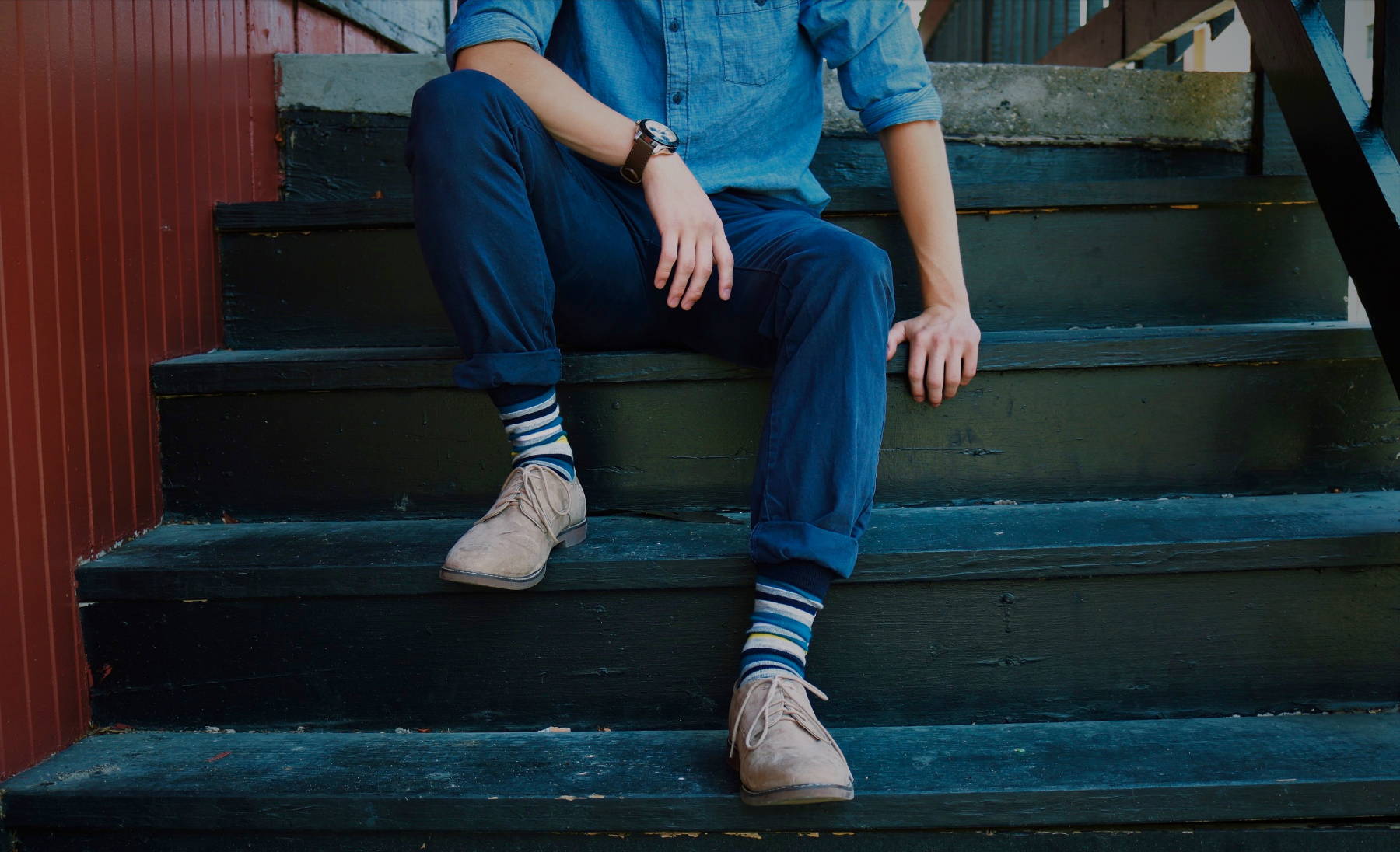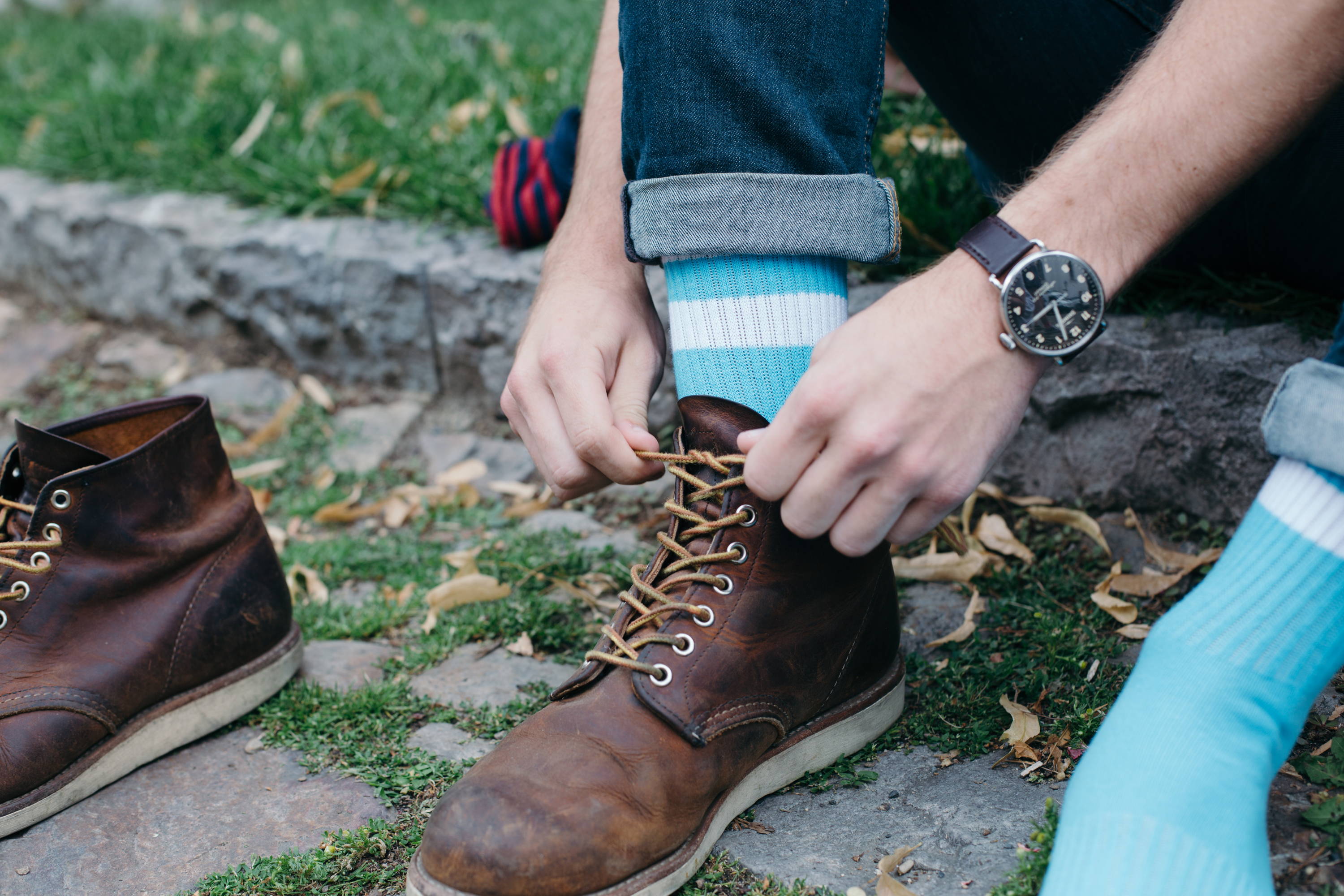 I know what you're probably thinking – you've been wearing socks in the summer for years, right? Men seem to have invented the summer sock trend, but instead of wearing a pair of athletic socks and sliders, this summer I challenge you to push the edges a little bit! It doesn't matter if you're wearing dressier shorts, cargo shorts, OR sweatshorts ("schworts" as I like to call them), adding a fun pair of socks to the 'fit will do nothing except make other people look…in a good way!
As I hope you can see from these pictures, trying out new trends doesn't have to be scary.  So what are you waiting for? Show us the sock/outfit combinations that you come up with by tagging us in your picture on Instagram: @sky_footwear