Two weeks ago we made our vendor debut at the Christmas Gift + Hobby show in Indianapolis. We viewed the show as an opportunity to try a new avenue, boost our 10k2018 goal, and interact with the Indy market which accounts for many of our customers at this point. We took advantage of it in large part because the location was 3 miles from where the socks are being stored.
Having never attended a market like this either as a vendor or as an attendee, we knew we were in for some surprises. For instance, I now know that a 7' x 10' booth is very small. (It's hard to attract someone in to shop with a booth the size of a pantry!)
Now after having experienced 40 hours of the vendor life and tired legs from standing for so long in a booth, I feel like I quickly became a novice-expert if we were to ever do one again.
How did you hear about Sky?

One of the cool experiences running Sky up to date has been realizing how many people who I didn't know that had heard of Sky before. I was honestly taken back by the number of people who came up and said something about recognizing us. A large percentage of the people attributed the awareness to media attention (mainly WTHR), but the other ways were astounding. It truly made me feel like we are building something and was a really cool feeling.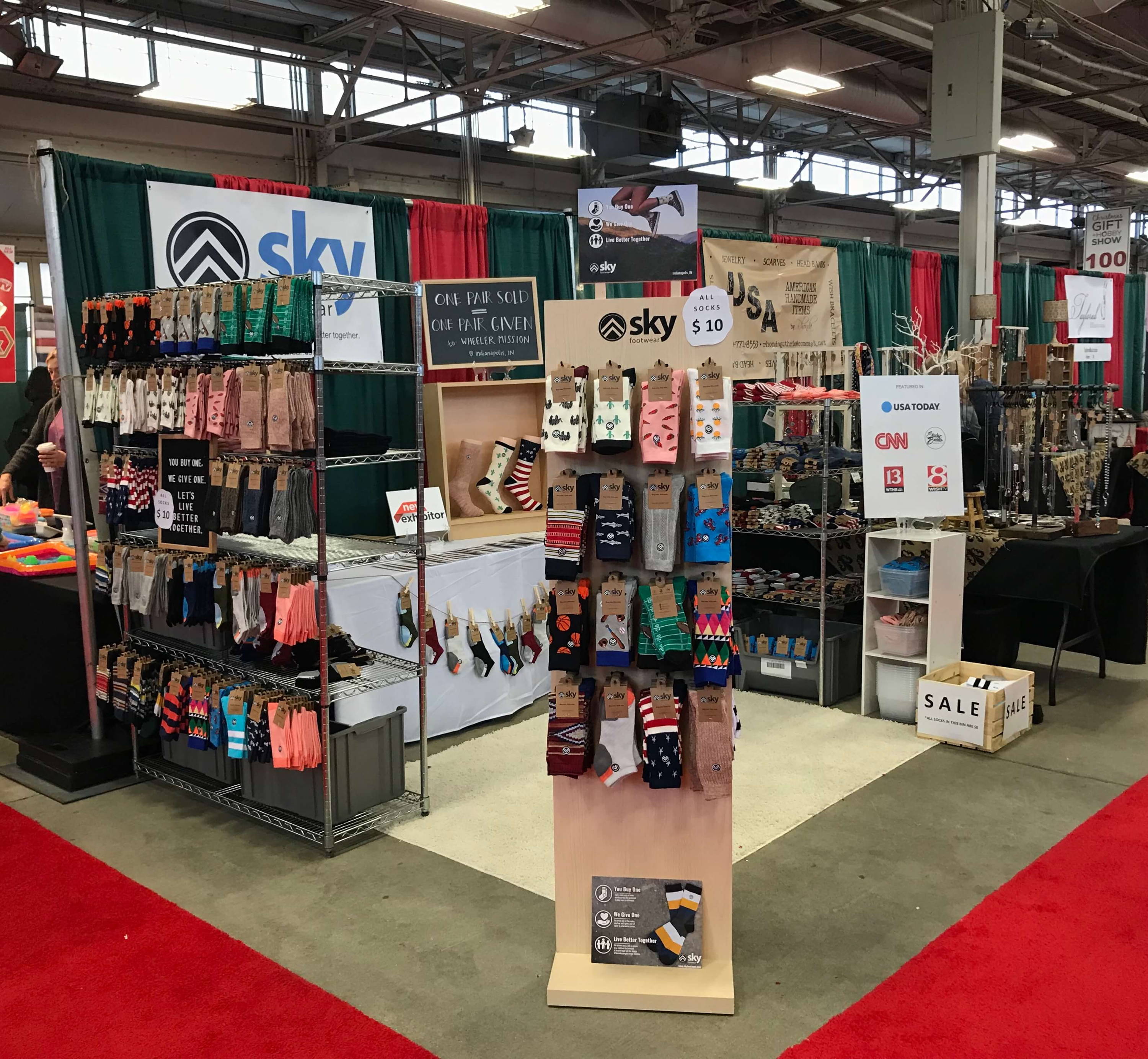 Over the course of the weekend, it hit me that this was the first time that we've ever really sold our socks in person. Of all the socks that we've sold, 99% of them have come from behind a computer screen. I never expected to think of this while standing, but it amazed me how different that experience is and how we've built Sky to be a true online brand up to this point.
The Driving Force In-Person vs. Online

The whole perspective when building a customer experience shifts when the product is sold in person vs. online. Our booth was decorated with socks everywhere, which was coupled with messaging about our mission and who we support. The design was intended to draw eyes. Although the "mission" and socks were laid side-by-side, people were drawn in because of the socks, not the mission. Even when people would come in, we would have to personally explain our mission. Maybe this is the consequences of poorly designed signage - or perhaps not.
From my experience, it appears the main drawing point for our sales that occur online is the story and the mission...and quite the opposite appears to be true for selling in person, where the socks and the designs drew people in.
My explanation for this is that the internet is flooded with products. There is no shortage of unique designs and products that appear to people through various advertisements. That's why over time we have steered ourselves towards "leaning" in with our story, rather than our product.
Anyone can produce cool socks designs, but it's hard to make up a story and a mission if it's not there. All of this being said, I do acknowledge the product also has to win. The story can be the drawing point but if the product isn't valuable than people won't come back. This is something that I've increasingly become more aware of and will build upon for the next year.
All-in-all, selling in-person was a unique opportunity that I have seldom experienced up to this point. It provided some real-time feedback which is extremely hard to gather online. It also provided some encouragement knowing that people are becoming more familiar with our story and mission.
Thanks for being willing to continue to follow along and share this journey together!
- Keaton